Distance

web2.danaos.gr/category/routing-performance/
Searoutes project is the result of an over 12 years research by Danaos. It started as an EU partially financed project, with the collaboration of Danaos Researchers, the National Technical University ...
DANAOS MANAGEMENT CONSULTANTS S.A.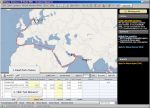 The world's best port distance database :More than 7 000 ports and 25 000 000 distancesConvenient visual route and world map A number of routing points choice e-Port atlas functionEasy route editingAd ...